Medium-term Management Plan
Medium-term Management Plan
The Group has formulated the Third Medium-Term Management Plan for the three years from the fiscal year ending March 2022 to the fiscal year ending March 2024. We aim to realize a "rich society in which people and plastics are in harmony" with the theme of becoming a XNUMX-year-old company.
Tenma Group Long-term Vision
We aim to realize a "rich society in which people and plastics are in harmony" with the theme of becoming a XNUMX-year-old company.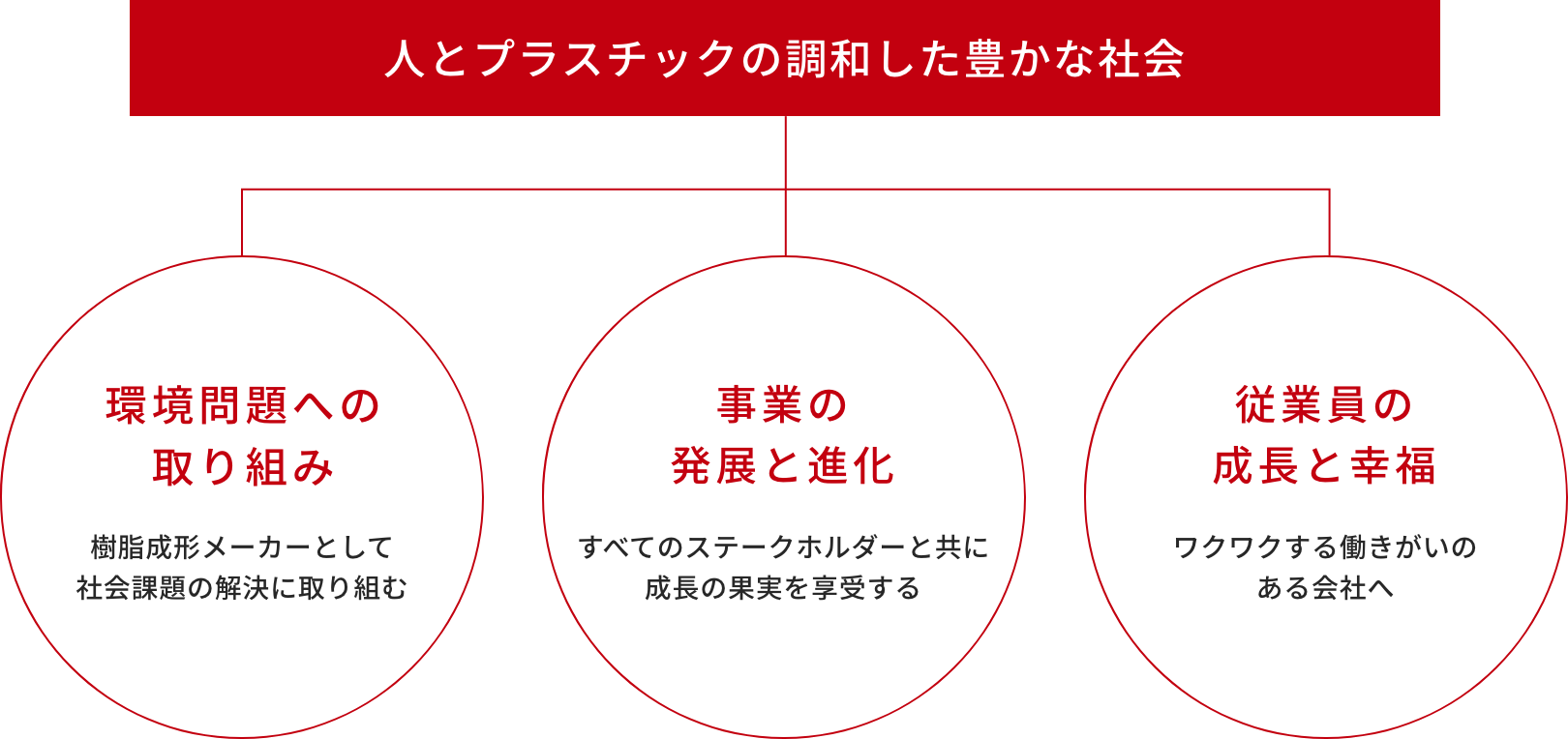 Third Medium-Term Management Plan Basic Policy
Third Medium-Term Management Plan (FY2022 / 3-FY2024 / 3)

[Basic position] "Transformation period" to achieve "aim"
Basic Policy

1

Promotion of sustainable management
"Sustainability Promotion Office" (Newly established in May 2021)


E (environment), S (society), G (government)

Promote sustainable management with an emphasis on
Of the 17 goals set by the SDGs as a guideline for activities to realize the vision,
Select 6 items that are closely related to our business and carry out company-wide activities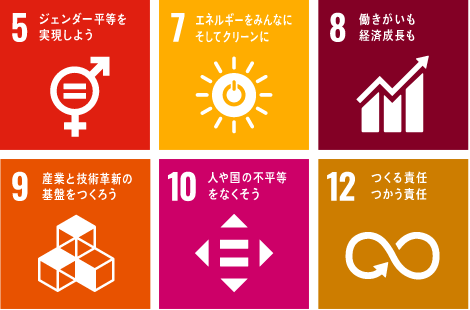 Basic Policy

2

Building a growth base
Fundamentally reviewing the way of funding so far, including priority investment in R & D and DX,
Focus on building a foundation for the Tenma Group to grow over the long term
Third Medium-Term Management Plan Company-wide Strategy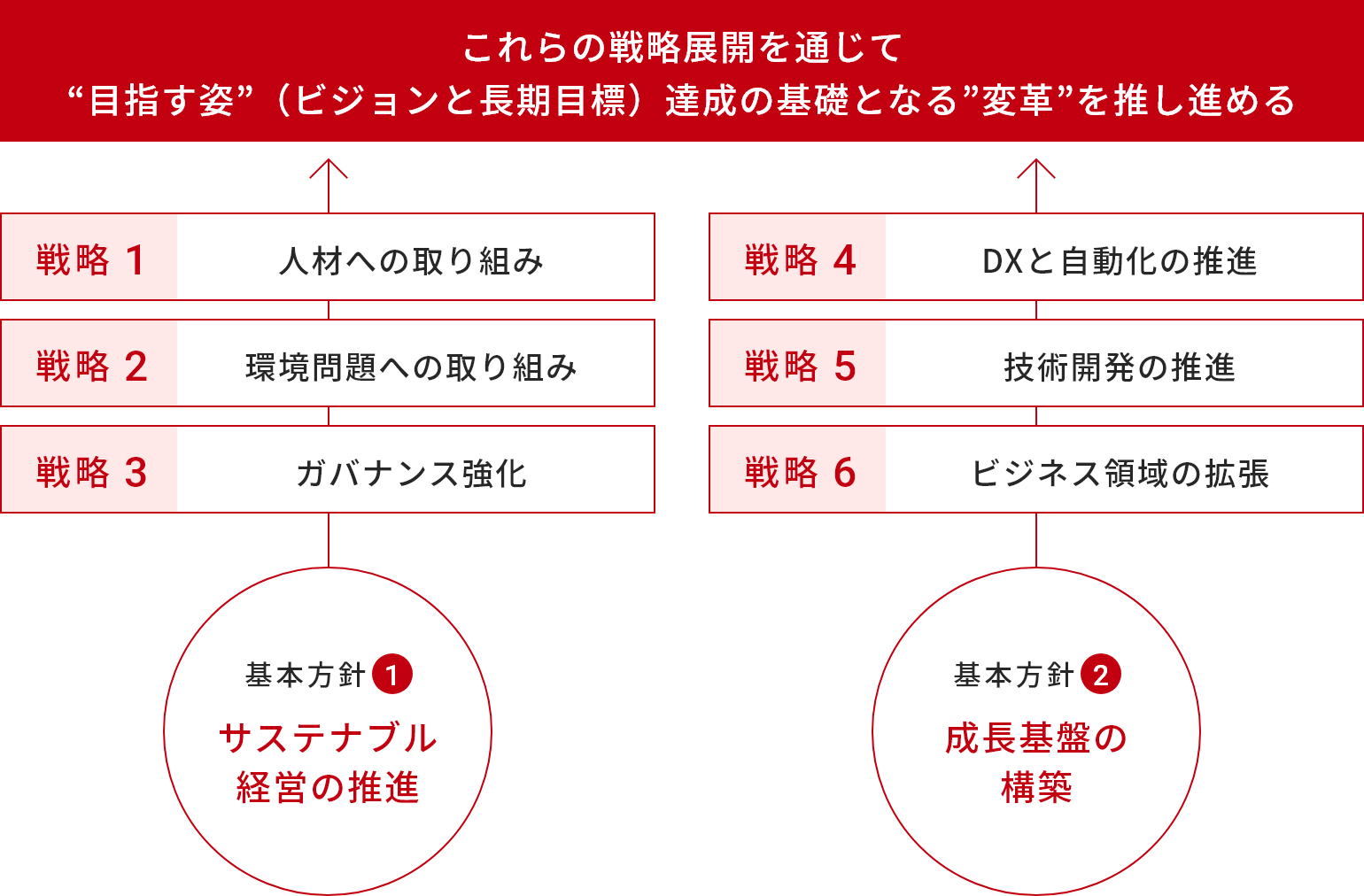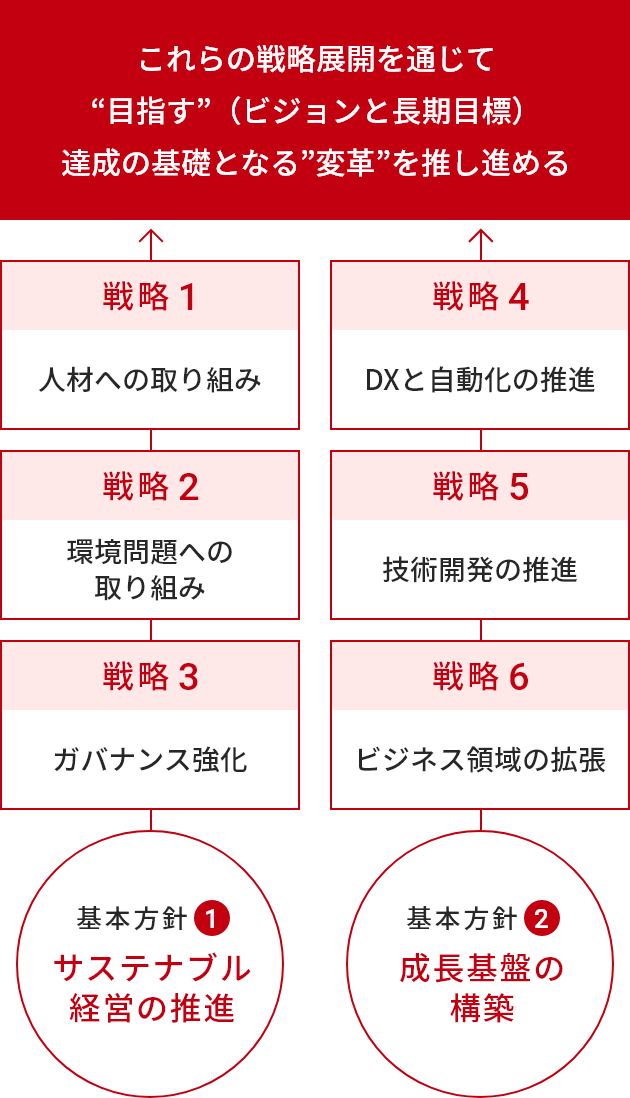 Strategy 1
Initiatives for human resources
Strengthen the promotion of the active participation of "human resources," which is the source of competitiveness
1. 

Efforts to promote diverse human resources

Respect for diversity: Creating a workplace where all employees can demonstrate their abilities regardless of gender, age, or nationality
Personnel / compensation system reform: Toward treatment / evaluation according to the weight of function and responsibility
Work style reform: It is possible to select a work style according to the life stage (introduction of telework flex system, etc.)
2. 

Efforts to improve employee satisfaction

Improving and improving the working and working environment of employees
Establishment of a system to promote non-regular employees to regular employees
Improving the corporate brand value of the "Tenma Group" (improving employee attribution and status)
Strategy 2
Initiatives for environmental issues
Promoting the 3Rs of plastics as a leading company in resin molding
Aiming to commercialize recycled plastics in order to make more effective use of plastics
Researching the use of bioplastics in our products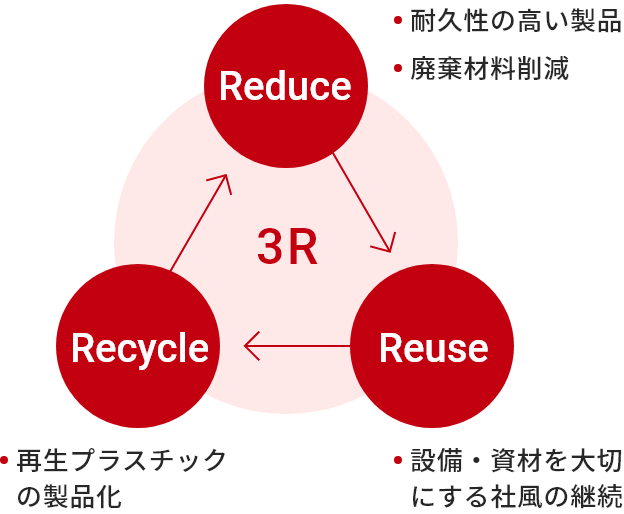 Strategy 3
Strengthening governance
Established a voluntary nomination and compensation committee in November 2020
→ Secure a more objective nomination / reward decision process
The ratio of independent outside directors should be at least one-third to further improve.
→ Objective and lively discussions on the board of directors
→ Realization of a highly transparent and effective board of directors
Established an internal control room and promoted the following
→ Strengthen control of overseas subsidiaries, review rules and ensure uniformity
Improving the efficiency of audit work through IT investment
Strategy 4
Promotion of DX and automation
Shift from operational efficiency to new business opportunities by promoting DX
1. 

Actively promote digital shift in production and operations

Promote the digitization of company-wide infrastructure, improve operational efficiency, and establish a management base that can plan, execute, and evaluate business strategies using accumulated data.
Strengthening cost competitiveness by automating product assembly and on-site logistics
2. 

Strengthening the EC strategy of our products and expanding globally

Actively utilize online to strengthen marketing of new products and develop products that accurately capture market needs
Global expansion and product development of in-house products utilizing IT in anticipation of the growth of the EC market
3. 

Creation of new business

We will break away from the legacy corporate culture and take on the challenge of new business opportunities that are not bound by the traditional framework of the equipment industry.
Aim to build a new business model by utilizing IT and leveraging domestic distribution network and brand awareness
Strategy 5
Promotion of technology development
Established "R & D Office" in Production Headquarters to concentrate on technology development (May 2021)
Main efforts of the "Research and Development Office"

Established special molding technology and material development technology as our own elemental technologies
In collaboration with the Development Department, Sales Department, Engineering Department, and Corporate Planning Department, we have established the technology to realize the functions required for the future market.
Promote research activities related to materials and molds that are upstream technologies, and increase added value
Promote the strengthening of decorative molding technology and robot utilization technology to increase the added value of existing businesses
Strategy 6
Business domain expansion
Expand business domain by promoting marketing strategy (strategy ④) and technology development (strategy ⑤)
The "Sales Planning Department" (newly established in May 2021) will take the lead in considering commercialization.
Development of environment-friendly products (bioplastics, etc.)
Entering a new field in the houseware field
ASEAN expansion of house wear business
Development of mold business by acquiring mold manufacturing technology
Challenge to new products such as logistics materials, medical drones, toys, etc.
Third Medium-Term Management Plan Numerical Targets and Management Indicators
Numerical goal
2nd Medium-Term Management Plan Results
3nd Medium-Term Management Plan Results
2019/3
2020/3
2021/3
2022/3
2023/3
2024/3
Sales (millions of yen)
84,765
85,762
73,639
81,000
84,500
87,000
Operating income (million yen)
2,349
3,065
2,892
3,400
3,800
4,200
Operating profit after deducting strategic expenses (million yen)
-
-
-
3,900
4,600
5,400
Operating income(%)
2.8
3.6
3.9
4.2
4.5
4.8
Same [excluding strategic costs] (%)
-
-
-
4.8
5.4
6.2
Medium-term management plan materials